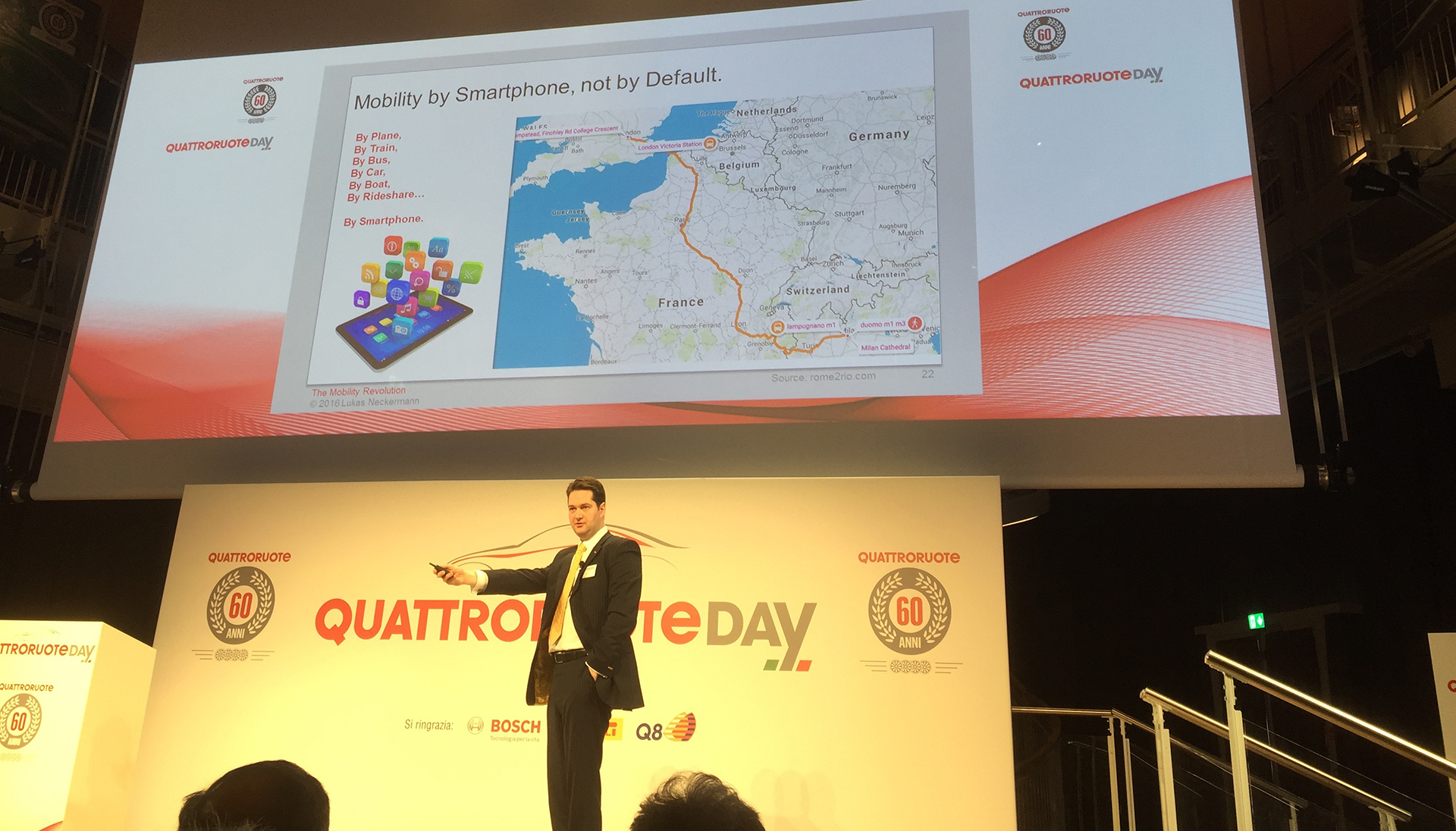 "Vias Institute engaged Neckermann Strategic Advisors for a review of our mission and strategy in mobility.  Both consultants were highly professional and knowledgeable on both the subject matter and strategic tools, and we are very pleased with the output.  Most of all, however, we appreciated the iterative and collaborative process that Lukas and his team applied over the course of our five-month project."
Lukas presented on the "Mobility Revolution" to a senior, non-automotive industry executive group where I am a board member.  His presentation was not only professional, interesting and informative but also delivered in a way that was both educational and enjoyable for the group.
NAFA Fleet Management Association was fortunate to have Lukas as the Dinner Keynote Speaker for our International Fleet Academy.  His message was totally on point and resonated with the global audience. It stimulated audience questions long into the evening which Lukas fielded with wisdom and grace. Organizers and attendees alike enjoyed all of the personal touches and the obvious conviction in Lukas' delivery. Although the event occurred a month ago, I am still receiving accolades for the choice of speaker. Whether you are a fleet industry professional or just a car owner, his message to eliminate vehicle crashes, emissions and ownership will provoke thought and discussion.
Having Lukas as a speaker at the fourth edition of our Take A Breath event (A look into the future of mobility) has undoubtedly made a difference. The possibility to talk about the future of mobility not only from a technological point of view, but with an overview on the evolving social, economic, geopolitical, cultural and generational contexts opened up new opportunities of reflection and discussion.  It gave us the chance to get closer to a potential, feasible future.

Besides, we had the opportunity to get to know Lukas, his ability to involve people and, at the same time, to get involved, his ability to create relations and networks and his willingness to take challenges also in non-professional fields. We like to think we have a new friend.
For the 24th time this year, Alphabet organized its "Lease Car of The Year" event. For the 2016 edition, the central theme was "Mobility of the future. The future of mobility." in line with Alphabet´s vision to become the leading provider for outstanding business mobility.

In choosing Lukas Neckermann as a key note speaker, Alphabet underlined not to shy away from disruptive innovation but to embrace it. And Lukas proved to be an outstanding key note speaker! He captured the audience with his vision and bold statements. He speaks with passion and enthusiasm. Lukas also clearly enjoyed sharing views with our guests even after the show.  His open attitude was a true added value for our event. Our guests were thrilled. Everything ran smoothly and we are absolutely positive about our cooperation with Lukas.
Lukas joined us as a keynote speaker at the Automotive Leaders Summit Liverpool.  He fully engaged our industry-packed audience with an energetic, knowledgeable and passionate insight into the future of mobility and possible scenarios for consideration.  With much skill, he introduced delegates to the "flip side" of the traditional automotive models and opened their minds to the many alternatives on the horizon.  The team at Three6Zero were delighted to work with Lukas and hope to do so again in the future
Lukas skillfully hosted two key panels at the TU-Automotive Connected Car Insurance Europe event in London.  His deep understanding of mobility and insurance ensured that both the attendees and panelists had excellent takeaways.
Lukas brings significant insights into the mobility-of-the-future market.  His speaking style is engaging and interactive, his knowledge of the market high and his gut-feel on future developments is rarely matched.  We are looking forward to more collaboration.
Lukas was a keynote speaker at our mobility conference. He did an excellent job in embarking our audience of over 700 on a journey to the future of mobility with a thought provoking story. His passionate performance kept the audience engaged and entertained. And most importantly his message was mind-opening, which allows us to work with our clients to look together to solutions for the future he illustrates.