Lukas Neckermann, author of four books on the future of mobility and cities,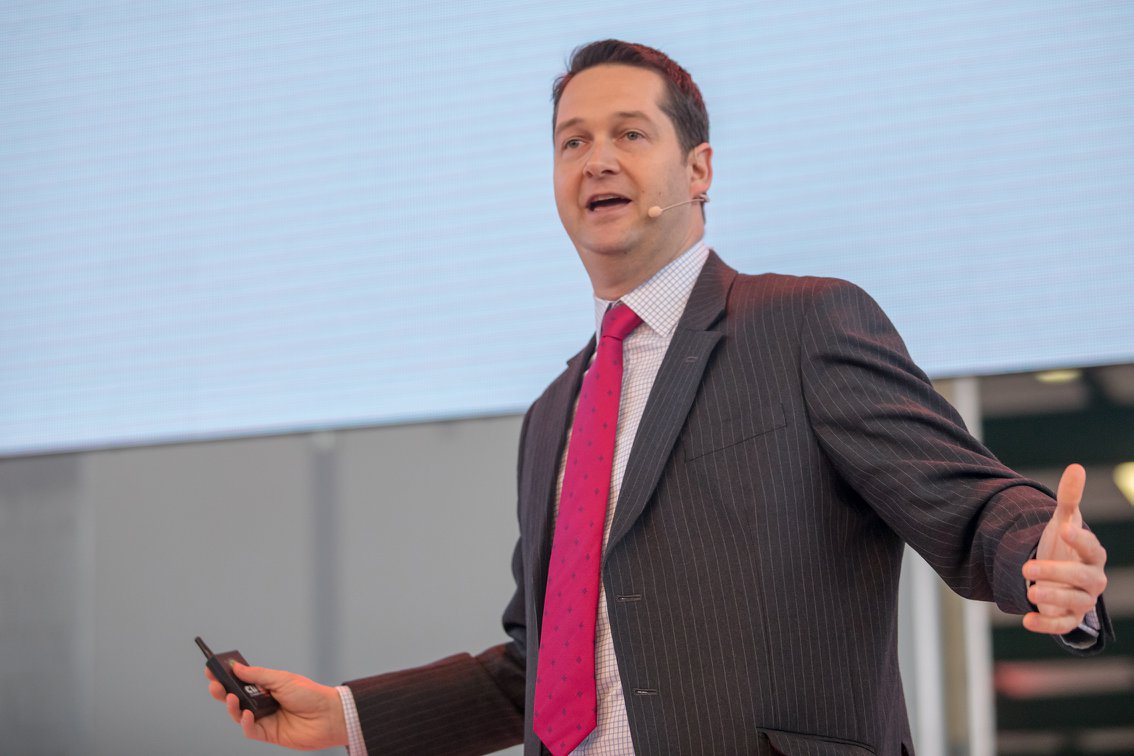 is a sought after keynote speaker and moderator for industry events and corporate universities.  He has spoken (in English and German) at countless conferences on marketing, business development, communication, leadership, and innovation.  His current focus areas are smart cities, smart mobility, and the strategic impact to various industries, including automotive and financial-services.
We also refer expert speakers and moderators from our extensive network to suit our clients. Please contact us for details and a speaking proposal – in English, German, French and Italian.
A selection of keynote speeches
Top-management, broker and community event (ca 700 participants, Baloise) – Brussels
Top-management event (ca 200 participants, Volkswagen) – Hannover
C-level customer event (ca 50 participants, Allianz) – Frankfurt
C-level customer event, Arval – Milan
Book tour with various conferences on electrical engineering, car sharing, and autonomous mobility (each ca 350 participants) – Florence, Vienna, London
Moderation and speeches at The Frankfurt Motor Show (IAA)
IESE 30th Annual Auto Industry Meeting (ca 250 participants) – Barcelona
Top-management event at a European insurance company (ca. 250 participants), January 2016
Transport for Smart Cities Event – Brussels, January 2016
QUATTRORUOTE Event in Milan (ca 750 participants), February 2016
9th annual Exhaust Gas and Particulate Emissions Forum (ca 250 participants) – Ludwigsburg, March 2016
Corporate Fleet Academy – Milan, March 2016
TU Automotive, Telematics and Insurance – London, April 2016
Lease Car of the Year – Brussels, April 2016
Future of Mobility, Future of Work – London, April 2016
Mobility in Italy – Milan, April 2016
Second 30a Transportation Innovation Workshop – Seaside Florida, May 2016
Bank of America Merrill Lynch Future Car Forum – London, June 2016
Automotive Leaders Summit – Liverpool, June 2016
Future of Mobility, Future of Work – London, June 2016
Oxford Technology & Media Forum, July 2016
Loccioni's "Take a Breath – the Future of the Automotive Industry" – Italy, September 2016
Accelerating Cleantech in UK – Panel discussion, London, September 2016
Corporate client events – London, Milan, September, October 2016
Europäische Verkehrsrechttage – Warsaw, October 2016
Leading automotive company – October 2016
TU Automotive, Munich – Keynote and moderator, November 2016
Arval Corporate Vehicle Observatory – Barcelona, November 2016
Audi Corporate Stakeholder Forum – Brussels, November 2016
Decarbonising Transport: Smart Mobility and Smart Cities – Berlin, November 2016
(December 2016 – February 2017: advisory and writing)
Insuring AV Conference on Autonomous Vehicles – Panelist, London, February 2017
Automotive Leaders Summit – Keynote Speech and Panel Moderator, Vienna, March 2017
American Automotive Leasing Association meeting – Keynote Speech, Miami, Florida, March 2017
City Car Summit – Moderator, Berlin, March 2017
Leading Tier 1 supplier, global workers council meeting – Keynote Speech, March 2017
NAFA Fleet Management Association Expo – Tampa, Florida, April 2017
Automobile Barcelona, Connected Hub – Panel Moderator, May 2017
Fleet Management Conference – Monza, May 2017
Smart Car Meets Smart Cities – Panel Host, London, June 2017
Bank of America Merrill Lynch "Future Car Conference" – London, June 2017
Major Investment Manager – Internal Conference, September 2017
Automotive Fleet Leasing Association Annual Conference – Las Vegas, September 2017
Major tire manufacturer, Dealer Conference – Cologne, September 2017
Major bank Sustainability Conference – Panel, Paris, October 2017
Autonomy Paris – France, October 2017
Future Mobility Conference – October 2017
SplytCon – Moderator, Speaker, October 2017
NAFA Great Lakes Chapter –  Toledo, OH, November 2017
Parar Welcome Tomorrow Conference – Sao Paolo, November 2017
Future Urban Mobility Workshop (OEM) – Stuttgart, November 2017
Future of Transport (Logistics company) – Bonn, November 2017
Mobility of the Future Summit – Brussels, February 2018
Global Claims Conference (Insurance Company) – Zurich, March 2018
Major bank roadshow – Paris and Frankfurt, March 2018
7th Smart to Future Cities – London, April 2018
TU-Automotive Digital Insurance Europe – Speaker and Panel Host, April 2018
Eye for Travel – Speaker and Panel Host, May 2018
Bank of America Merrill Lynch "Future Car Conference" – London, June 2018
Corporate client events (Insurance) – Stuttgart, June 2018
TechXLR8 – London Tech Week's flagship event, June 2018
GEOTAB CONNECT 2018 – Toronto, June 2018
European Traffic Law Days – Naples, September 2018
Event for Wrisk – London, September 2018
Fleet Live – Birmingham, October 2018
Autonomy – Hosted two panels at Europe's leading Urban Mobility event, October 2018
BNP Paribas Sustainable Future Forum – Paris, October 2018
Fleet Management conference – Florida, November 2018
December 2018 – February 2019: Reserved for research, writing
MOVE Conference -February 2019
NAFA Fleet Management Institute & Expo – Keynote Speech and Panel Moderator, Louisville, April 2019
Major international rental car company customer event – London, May 2019
Major international bank – Keynote Speech, London, June 2019
Dubai World Congress for Self-Driving Transport, October 2019
January – June 2020: Focus on research and writing
Automakers & Mobility: Electric… Connected… Autonomous… Commercial? – Reuters, February 2020
MOVE London 2020 – Keynote, February 2020
Smarter Mobility World – Virtual keynote about autonomous vehicles and human adoption, March 2020
Megatrends

& the new frontiers of passive management – Series of webcasts for Lyxor/MSCI, March to May 2020

Sustainable Mobility Digital Event – Virtual keynote, May 2020
Virtual Thematic ETF Masterclass – Lyxor, May 2020
Smart city, the key to sustainability – Virtual keynote for AI Tech North, May 2020
Smarter Mobility Europe LIVE – Virtual keynotes, July 2020
Impact Mobility: Virtual Summit – Reuters, July 2020
AutomotiveEV – Virtual keynote and panel, September 2020
IRF Young Professionals Summit – Virtual keynote and panel moderation, September 2020
Auto-Mobility Conference – Speech, Troisdorf – October 2020
MaaS Alliance – Thought leadership keynote – October 2020
World Shopper – Keynote – October 2020
Series of webinars with Financial Services client – October 2020
Smarter Mobility Africa – Moderation of two panels – October 2020
Electronomous – November 2020
CASE, COVID, and TRUST – Bank of America Merrill Lynch – November 2020
Future Mobility – Keynote for investors – Lyxor ETF – February 2021
EV Ecosystem – Keynote – Osborne Clarke – February 2021
E-Mobility Congress of South Africa – Keynote – March 2021
Smart Mobility Institute – Keynote – March 2021
A spotlight on mobility solutions – Keynote – BVRLA – May 2021
Autonomy Digital 2.0 – Panel moderations – May 2021
Panel about charging points in France (FR) – Replay here (after registration)
Panel about fleet transformation (EN) – Replay here (after registration)
From automotive to mobility – Keynote for Carglass / Belron – Replay here – May 2021
Data driven mobility – Workshop lead – Autonomy Paris – Replay here – June 2021
Consolidation, Mergers and Acquisitions – What's Next for Mobility Companies? – Panel moderation – Automotive Tech Week Europe – September 2021
Initiating PAVE Europe: Call for Founders – Panel moderation – IAA Munich – September 2021 – Video replay here
(September 2021 – December 2022: advisory work)
Autonomy City Summit, London – October 2022 – Autonomous Vehicle Adoption
Institute of International Traffic Law, Berlin – October 2022
Shared Mobility Summit, London – October 2022
Kickoff Event for European Insurer – January 2023
Speech and teaching at University of St. Gallen (German) – March 2023
Speech and teaching at Bayes Business School, London – April 2023
Mobility Tomorrow Conference, Brussels (500 guests) – June 2023
Speech and teaching at Technical University of Berlin – July 2023
Autonomy London – September 2023
Dubai Congress for Self-Driving Transport – September 2023
Conference Chairman
Policy UK "The UK's Motoring Future"
Driverless Technology Conference and Exhibition 2016, Milton Keynes
SplytCon, Barcelona
European Commission's Excellence in Road Safety Awards, Brussels – July 2018
Smart Transportation & Mobility, London – 2019
The Future of Greentech: Cities, Dwellings, and Construction, The Camden Clean Air Initiative – June 2021
AutoTech Europe, Munich – November 2022
Host of multiple panels at Autonomy Mobility World Expo, Paris – March 2023
AutoTech Europe – Track Chairman and Advisory Board Member, Berlin – November 2023
Samples of speeches
DHL Automotive Innovation Conference 2017 – short sample video