Mobility is a brand new universe that goes beyond transportation. Anyone wanting to understand the ventures and valuations of startups in the sector (or Tesla's booming share price) should embrace the full scope of this ecosystem.
Article originally posted on the 23rd of July 2020 here.
The mobility ecosystem and the physical universe is an apt comparison. It's a galaxy of industries (solar systems) across energy, finance, infrastructure and more, that together encompasses Trillions of Dollars of value.
Mobility is not simply an evolution of automotive, or just another planet which we might or might not classify as such (like Pluto). Like when we finally realized the sun doesn't revolve around the Earth, today, the mobility industry no longer revolves around cars.
Within that wider ecosystem, lies a specific value-chain for shared autonomous mobility itself. To understand this piece, for the last 12 months, we at Neckermann Strategic Advisors have put on our astronaut suits. We have explored each component of the this "solar system" (value chain) to understand the stakeholders, market values and drivers pushing the Mobility Revolution forward. Thanks to our continuous monitoring of the industry, our assignments with mobility leaders, and the advisory mandates we fulfil, we have developed a holistic 360 degree understanding of the smart mobility landscape.
This piece of work includes our interpretation of a smart mobility value chain, with six key categories: Technology, vehicle manufacturers, systems & data, fleet management, mobility operators and MaaS Aggregators. Based on these categories, we identified over 850 companies that we've allocated into more than 20 sections and 55 sub-sections – one of the most, if not the most, complete and accurate mapping of the smart mobility industry.
Our analysis shows that there is currently a concentration of stakeholders in three areas:
1.     Technology
2.     Systems & data
3.     Mobility operators
Each of these three areas contain around one-fifth of the total companies we identified in our mapping. It's not surprising, since technology and software are the value drivers of the entire industry, but it's surely news to some manufacturers. Fleet management is the area where we found the lowest number of players, likely due to the high investments in asset required. Yet, there is an interesting increase in the total of firms developing solutions to monitor and manage (even teleoperate) fleets of vehicles, especially for automated pools of cars and fleet managers willing to electrify their stock.
Based on the value-chain work in mobility and our recent work on the adoption of autonomous technology, we estimate the autonomous mobility value chain to be worth over $1 trillion in total value by 2030. While there is still uncertainty on how resilient future investments in this branch of mobility will be after the current crisis, significant financial commitments have already taken the autonomous sector moving forward:
•      Bosch will invest $4.6 billion by 2022,
•      Honda has invested $750 million in GM's Cruise self-driving unit, with a commitment to invest another $2 billion,
•      Toyota, along with suppliers Aisin Seiki and Denso, plan to invest $2.8 billion into Toyota Research Institute-Advanced Development (TRI-AD),
•      Audi, under VW, is scheduled to invest $16 billion over five years on transportation technologies of the future including digital services, autonomous driving, and electric mobility,
•      And who can forget Amazon, Tesla, Waymo, Intel, and a positive wave of Chinese powerhouse companies in autonomous and shared mobility?
Overall, since 2010 there have been over $115 billion invested in the AV industry.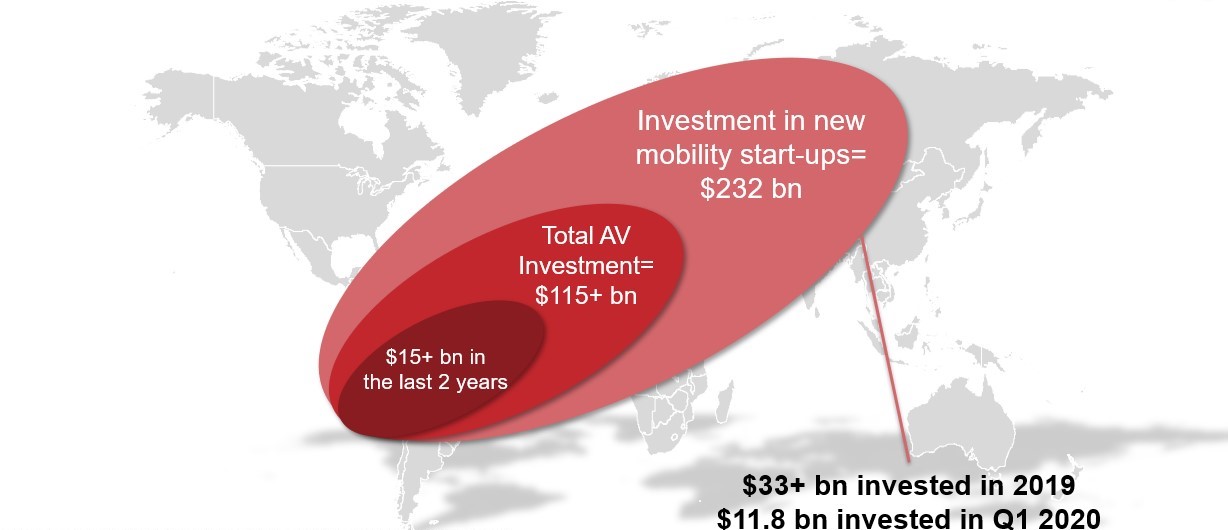 Based on McKinsey, CapitallQ, Cipher, Pitchbook, CB Insight, Reuters
The high level of granularity we were able to achieve has proven useful for multiple clients. We are pleased to have been asked to act in an advisory capacity as an expert on the ongoing evolution of certain themes underlying two of MSCI's new thematic indexes, launched recently, via Lyxor to professional investors.  Lukas Neckermann was also asked to join as an expert speaker through a series of webinars for Lyxor.
What's next? Well, beyond our own solar system, lies a broader galaxy with other industries such as finance, real estate, infrastructure, and of course energy generation, transmission, storage and delivery – all part of a wider mobility universe, and each impacted by the Mobility Revolution.
If – like our existing clients – you also would like to leverage the power of our qualitative and quantitative research on the future mobility value-chain for your strategic decisions, let's together explore the best way to support your company to hit your (out-of-this-world) targets.